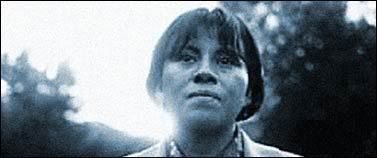 Digna Ochoa ( 1964-2001)

On October 19th, 2001, Digna Ochoa, a leading Mexican human rights lawyer, was found shot dead in her office in Mexico City.

Digna Ochoa had taken on some of Mexico's most controversial cases,including the defense of Rodolfo Montiel and Teodoro Cabrera, anti-logging environmentalists in the state of Guerrerro, Zapatistas guerrillas in Chiapas and the rights of indigenous communities in her home state of Verazcruz. At the time of her death, she was defending three men charged with bombing banks in Mexico City to protest against globalization.

In August 1999, after she began work on the Montiel and Cabrera case, Digna Ochoa was kidnapped and beaten by two unidentified men before being set free with the warning that she would be killed if she drew attention to the abduction.
In September 1999, three death threats were received at her office. Attached to one letter was one of Digna Ochoa's business cards that had been taken from her during her abduction. Then in October,1999, on the same night that the offices of her agency, PRODH, were ransacked and files destroyed, three men broke into her home. They tied her to a chair, immobilized her arms and legs, and locked Digna in a room with an open gas canister, and left her to die. Miraculously, once again, she was able to free herself.

But the determination of her persecutors finally prevailed. On 19 October, 2001, Digna Ochoa's body was found in a legal office in Mexico City. The killers left a death threat warning other human rights defenders from the PRODH, that they would meet a similar fate, if they continued their human rights work.

The murder of Digna Ochoa sent shock waves through Mexican society. President Fox's administration, which came to power after over 70 years of one-party rule, had pledged to end impunity and radically improve Mexico's human rights situation. Digna Ochoa's murder demonstrates that the authorities have failed to deliver real improvements.

In july 2003 despite overwhelming evidence and a note beside her body addressed to other " sons-of bitch " human rights lawyers, the Mexican government ruled Digna Ochoa's violent deatha "probable suicide" and slammed the case shut.